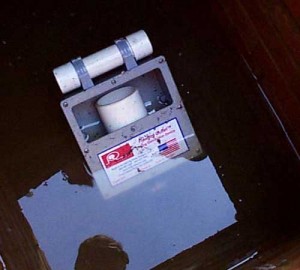 Like a box-shaped tipping bucket, a Flout is a simple sinking-pipe dosing device used to provide flushes of water. Watercourse Systems uses them mainly for feeding Compact Vertical Flow Reed Beds. We import them from the United States for our use and also make them available for purchase (link below).
What does a Flout do?
The Flout is used to turn a normal, sporadic flow of wastewater into controlled, equal intermittent doses. This is useful when delivering water to reed beds or leachfields, ensuring an even spread of water, optimising treatment performance and reliability. Because they operate solely under gravity, where there is a suitable fall in the land Flouts eliminate the need for electrical pumps.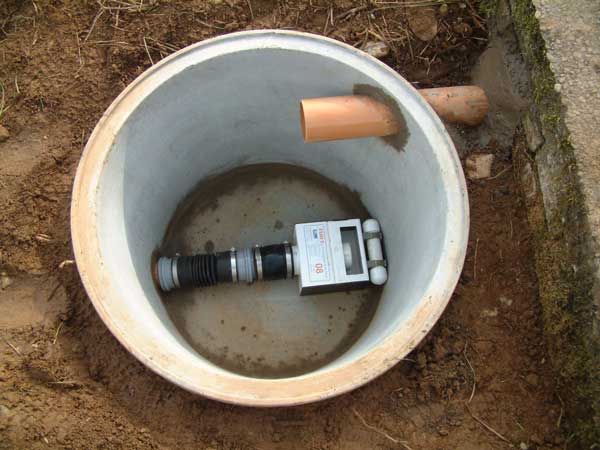 Why haven't I heard of this before?
Intermittent flushing of sewage to septic tank leachfields is more common in the US and Australia and you can find reference in old British plumbing books. However, until now there have been no commercial products available in the UK to achieve this. Traditionally auto-siphons were used but these are sensitive to incorrect installation and interference. In contrast, Flouts are exceptionally easy to install and require next to no maintenance, an annual visit being sufficient to ensure proper function.
How do I calculate and ensure the right dose volume?
The Flout is installed in a tank of known volume, which defines the size of flush. For details and guidance on suggested dose volume, see the data sheet created by Solution Elements Ltd, who used to supply Flouts.
How long do Flouts last?
Flouts comprise a box and pipe-insert of ABS & PVC, attached to outlet pipework by a flexile gaiter (afixed by stainless steel hose-clips). The gaiter is EPDM, which is resistant to wastewater. We have never had to supply a replacement but spares are available for a modest price.
Can I buy one?
Yes. Flouts cost £253.98 each plus VAT (plus £20 post & packing, within UK). Click the image below and you will be taken to the PayPal site where you can pay by debit or credit card or directly from your PayPal balance. Alternatively, contact us and we can discuss other means of payment.